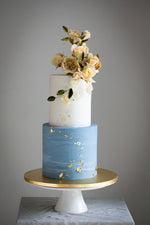 There is no doubt that wedding cakes is big in the trend now in Singapore since more wedding trends are moving towards a more intimate (lesser pax) yet highly customised weddings. Having a wedding cake which is customised and edible will seem to be a great option. With so many designs and trends in the market these days, how does a bride choose to their own wedding cake for their big day?
Generally flower cakes are favoured compared to designer cakes which seems a little bit childish. Having an elegant and beautifully designed cake will be the centrepiece to the most important event of your life.
Fresh Flowers Wedding Cake
Out of the 3 choices, fresh flower cakes are the most inexpensive cake. They should not be expensive. Reason being? There is not much man hours or artistry involved in the creation of the flowers. Flowers from the fresh flower market can go as low as $8-$12 for 20 roses. So unless you are requesting for very special flowers which involves special ordering (peony etc etc), a two tier flower cake measuring 6" + 8" (4" tall) should not exceed $280
It could be the most cost effective solution to getting a wedding cake however, in my personal opinion I would not pay $280 for any fresh flower cakes. Reason being? Fresh flowers are not hygienic - there are pollen, fertilisers (which is essentially shit), pesticide and floral preservatives. Your baker could assure you that they wash the flowers before using it, however can they wash away the poisonous saps? Don't take my word for it, check out this list.
One of the few most common flowers which cake decorators like to use is baby's breath and hydrangea. In mild cases of ingesting the saps can cause rash or irritation in mouth tonge and throat, vomiting, diarrhoea and in serious cases it can even cause serious illness or death. So why would anyone spend money to poison your own guest?
I would only suggest to use the flowers if they are toxic free, edible food grade and organic. Which will make the $280 price tag unrealistic.
Pros: Affordable and beautiful
Cons: Might poison your guest and bring you unwanted lawsuit
Sugar Flowers aka Gum Paste Flowers Wedding Cake
Gum paste flowers and sugar flowers are the next most lifelike option. With more and more sugar artist trying to recreate the flowers with life size ratio, these flowers are available in any season. I have brides asking for peonies even when there are no peonies during that season. And on the bright side, you can customise the flowers to any color which suits your design. These flowers are mainly made of icing sugar, egg whites and CMC (a type of additive present in common edible products such as ice-cream and biscuits to create gel-like structure)
Unlike olden days sugar flowers which look hard and stiff with luminous colors, current food colouring technology and sugar crafting technology have improved so much that it is a lot more live like and beautiful. Here are some photos of our handmade edible sugar flowers.
As beautiful as these edible blooms are, they are actually more costly as they require many man-hours in creating them. For example, one rose will take a student/intern as long as 3 hours to create and a master craftsman 1 hour - 2 hour to create. However, on the bright side, the flowers last forever if they are stored properly.
Pros: Beautiful, last forever, edible and customiseable to the color of your choice
Cons: Most costly among all the flower cakes
Buttercream Flowers
Buttercream flowers are highly popularised by the Koreans. Unlike sugar flowers which uses metal support and wires, buttercream flower wedding cakes promote a concept of "all edible". Which means, there is no need to remove anything from the cake before eating. Simply just cut and dig in.
With more and more creative minds in the caking industry. Buttercream flowers which used to be associated with the "HDB bakery" with a tacky color and leaves a waxy feeling on your tongue is changed greatly. There are many talented Chefs who can create beautiful buttercream florals with 100% real butter made buttercream. Like sugar flowers, they can be customised to the colors and blooms which you want for your big day. However, they are less life-like and 3D compared to the sugar flowers, also if you are planning a outdoor wedding, they are not advisable as it is really prone to melting in Singapore's weather.
Pros: 100% edible, customisable, cost effective
Cons: Does not last well for outdoor weddings, less realistic compared to sugar flowers
With all these things in mind, I hope brides to be have a clearer idea of wedding cakes and what it entrails.