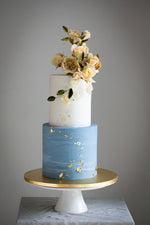 There is no doubt that wedding cakes is big in the trend now in Singapore since more wedding trends are moving towards a more intimate (lesser pax) yet highly customised weddings. Having a wedding cake which is customised and edible will seem to be a great option. With so many designs and trends in the market these days, how does a bride choose to their own wedding cake for their big day?   Generally flower cakes are favoured compared to designer cakes which seems a little bit childish. Having an elegant and beautifully designed cake will be the centrepiece...
---
Most brides will ask me this question when they come for a wedding cake tasting. Are fresh flowers or sugar flowers better for their wedding cake? My personal opinion? Sugar flowers. Sugar flowers will always be my top choice when it comes to cake decoration.       I am guilty of using fresh flowers myself - due to various reasons. Bride's insisting on using fresh flowers, customer's budget constrain, time constrain for last minute orders etc. But If there is anything i will support in this industry will be using sugar flowers (and of course health conscious ingredients of...
---
Congrats – you're engaged! To help our brides-to-be plan their perfect wedding, we have complied a few wedding cake trends 2018 to help inspire your custom wedding cake.   1. Metallic Wedding Cake Metallic Wedding cakes are for the glamorous. With its shiny finishing of gold and silver, it is the epitome of wedding luxury.     2. White-on-white Wedding cakes Wedding white is time-tested style that will not go out of trend, especially when it comes to the wedding cake. Add these intrinsic patterns to your traditional wedding cake and achieve a look of modern traditional look for your wedding.  ...